Honorary Coach Program
In an effort to share the college student-athlete experience with the campus community, the Office of Academic Services, the Dean's Office and the Athletic Department have developed the Honorary Coach Program for Faculty.
The Mission of the Honorary Coach Program for Faculty is to connect the athletic department with faculty as partners in the education and transformation of Providence College student-athletes. The program provides randomly selected faculty members an opportunity to witness first- hand the physical and intellectual demands of preparing for competition, as well as the teaching techniques that coaches employ to enhance performance and inculcate a spirit of healthy competition. Hosted by members of the student-athlete services staff, faculty members participate in pre-game preparation and get a close-up view of the action during the game.
Honorary Coaches for 2018-19:
Volleyball v. Butler on October 18, 2018
Women's Soccer v. Seton Hall on October 21, 2018
Dr. Susan Skawinski, Associate Professor of Education and Dr. Christine Earley, Professor of Accountancy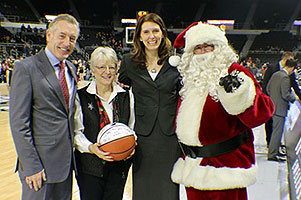 Bob Driscoll, Pam Sherer, Marissa Mezzanotte, and Kerry Rafanelli '80 
What a terrific experience!  I enjoyed every minute of participating in The Honorary Coach Program.  The opportunity to attend practice, see the game films, hear Coach Cooley address the players, see the game up-close and participate in the half-time festivities will be remembered as a highlight of my time at PC.  Another major highlight was getting to meet you and learn of the amazing work you do with our student-athletes and with coordinating this unique program for faculty. Your extensive and thoughtful planning for my coaching experience is greatly appreciated.  You made all of my guests and me feel so welcomed and special.
 — Dr. Pam Sherer, Professor of Management
Men's Soccer v. Georgetown on October 24, 2018
Dr. Terry McGoldrick, Associate Professor of Theology
January 25, 2017 – Providence College vs. St. John's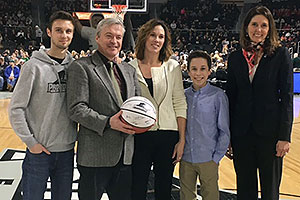 Aiden McGoldrick, Terry McGoldrick, Theresa McGoldrick '95, Brendan McGoldrick, and Marissa Mezzanotte
The program helped me as a faculty member to get a closer view and better understanding of the basketball program. Coach Cooley and his staff were very hospitable. It was nice to chat with you about the various players, it gave me an insight into their demands in a Division 1 sports team.  The family also enjoyed your hospitality at the game. My youngest even got a wave into his friends, who were watching on TV when we were being introduced at half time. I keep the autographed ball in my office as a reminder.
—Dr. Terrance McGoldrick, Associate Professor of Theology
Men's Basketball
Dr. Megan Chang, Assistant Professor of Voice and Diction for PC v. Holy Cross on November 13, 2018
Dr. Vivian Okere, Professor of Finance for PC v. Xavier on January 16, 2019
Dr. Robin Greene, Associate Professor of History for PC v. Marquette on February 23, 2019
Dr. John Abbruzzese, Associate Professor of Philosophy for PC v. Butler on March 9, 2019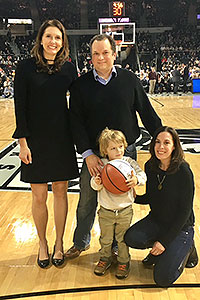 Marissa Mezzanotte with Ed, Max and Noel Szado
What a fabulous experience! We all had an incredible time at the game. My son Max was in heaven. He couldn't stop talking about the game. The behind the scenes experience with Coach Cooley and the players was very insightful. I have a new appreciation for the dedication and drive of our student athletes.  Thanks for everything!!!
—Dr. Ed Szado, Assistant Professor of Finance
Men's Ice Hockey
Dr. Vivian Okere, Professor of Finance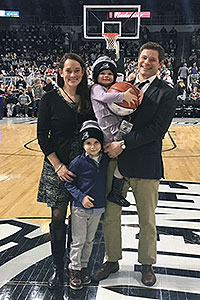 Mary Andrews '02, Will Andrews, Maggie Andrews and Ted Andrews '01
This was an incredibly enriching experience, and I learned a lot about the time and energy that student athletes have committed to PC.  But what I found most inspiring was that the values that I try to instill in my students – the importance of hard work, preparation, and attention to detail – were the same ones emphasized by Ed Cooley and his coaching staff.  I now have a better appreciation for the rich education that our student athletes are receiving, both inside and beyond the classroom.
 —Dr. Ted Andrews, Associate Professor of History
Women's Basketball v. DePaul on March 1, 2019
Dr. Wendy Oliver, Professor of Dance and Dr. Michael Shafer, Assistant Professor of Finance
February 25, 2017 – Providence College vs. Marquette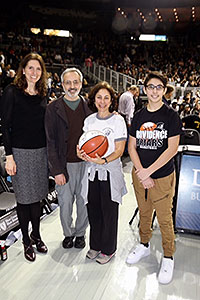 Marissa Mezzanotte, Paul Marsella, Kate Lohman, and Jack Marsella
Thanks so much for the great afternoon yesterday. WHAT A GAME! It was so wonderful to get a glimpse behind the scenes, and behind the bench. Please tell Coach Cooley and all his fellow coaches and staff that Paul, Jack and I appreciate their great warmth and generosity, and that – of course! – we'll be rooting for the Friars the rest of the way!
—Professor Kate Lohman, Adjunct Professor, Theater, Dance and Film
Men's Lacrosse v. Georgetown on April 6, 2019
Men's and Women's Track at Ocean State Meet on April 12, 2019
2015-2016 Honorary Coaches
PC vs. Harvard – Dr. William Bonney, Theology
PC vs. Boston College – Dr. Zophia Edwards, Sociology
PC vs. Seton Hall – Dr. Tobias Harper, History
PC vs. Butler – Dr. Colin King, Philosophy
2014-2015 Honorary Coaches
PC vs. Albany – Dr. Deirdre Snyder, Management
PC vs. University of Rhode Island – Ann Kelley, Accountancy
PC vs. Xavier – Dr. Ray Sickinger, History
PC vs. Villanova – Dr. James Keating, Theology
PC vs. Seton Hall – Dr. Maureen Outlaw, Sociology
PC vs. Marquette – Dr. Vance Morgan, Philosophy
PC vs. Butler – Dr. Margaret Reid, English