Student-Athlete Academic Recognition
Friar student-athletes strive for excellence in their sport and in the classroom.
2021-2022 Conference All-Academic Team Recipients
Big East: 226 Friar student-athletes
Hockey East: 32 Friar student-athletes
Chi Alpha Sigma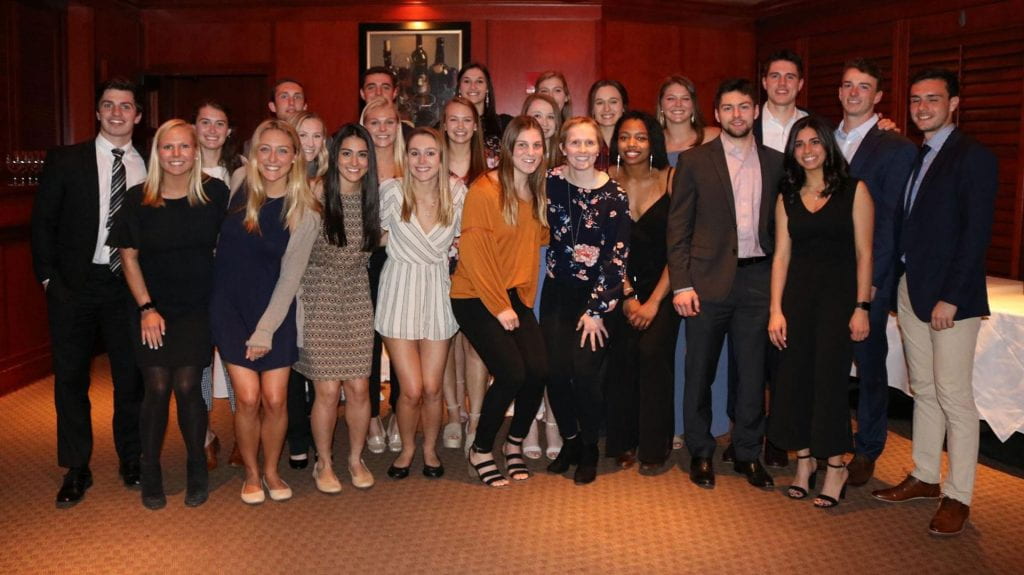 Chi Alpha Sigma was Founded at DePauw University on May 17, 1996. Chi Alpha Sigma is a nonprofit organization established to recognize college student-athletes who earn a varsity letter in at least one sport while maintaining a 3.4 or higher cumulative GPA throughout their junior and senior years. Through the efforts of SSC staff members, Providence College established a charter with Chi Alpha Sigma in March 2004.
Class of 2021 Inductees Include:
Jennifer Bankes '22 – Swimming and Diving (Finance/Accountancy)
Allison Barber '21 – Women's Volleyball (Marketing/Sociology)
Taylor Barber '22 – Swimming and Diving (Biology, Psychology, Neuroscience Certificate)
Hunter Barnett '22 – Women's Hockey (Psychology)
Nicola Calabrese '22 – Women's Track and Field (Elementary/Special Education, Sociology)
Michael Callahan '22 – Men's Hockey (Finance)
Danielle Casavant '22 – Women's Track and Field (Economics/Mathematics)
Caroline Drinkwater '22 – Women's Soccer (Social Work)
Emma Fink '22 – Women's Volleyball (Biochemistry/Computer Science)
Andrew Fonts '21 – Men's Basketball (Finance/English)
Ashley Gigon '22 – Women's Track and Field (Physics/Business Innovation)
Matthew Grillo '22 – Men's Lacrosse (Finance)
Michael Hawkins '22 – Swimming and Diving (Finance/Computer Science)
Matthew Lepine '22 – Men's Cross Country and Track
(Psychology)
Hayley Lunny '21 – Women's Hockey (Political Science/Business Innovation)
Kara McCurdy '22 – Swimming and Diving (Health Policy Management/Mathematics/French)
Sean Meehan '22 – Men's Cross Country and Track (Business Economics/Mathematics)
Matthew Michaels '22 – Swimming and Diving (Finance/Accountancy)
Matthew Murakami '22 – Men's Lacrosse (Computer Science/Business Innovation)
Orla O'Connor '22 – Women's Cross Country and Track (Economics, Finance)
Michael O'Grady '22 – Men's Lacrosse (Finance/Accountancy)
Jason O'Neill '21 – Men's Hockey (Social Science/Business Innovation)
Mairead O'Sullivan '22 – Softball (Psychology/Women's and Gender Studies)
Caroline Peterson '22 – Women's Hockey (Political Science, Economics, Public Administration)
Adam Riis '22 – Men's Soccer (Economics)
Christina Rodgers '21 – Women's Soccer (Elementary/Special Education, Business Innovation)
Mara Rodriguez '22 – Women's Soccer (Health Policy Management/Business Innovation)
Davis Smith '21 – Men's Soccer (Management)
Madi Traver '22 – Softball (English)
Justin Viotto '22 – Swimming and Diving (Finance)
Sophia Widmeyer '22 – Women's Basketball (Psychology/Evolutionary Biology & Ecology)