Athletics Academic Eligibility
To participate in team activities and to graduate with a degree from Providence College, Friar student-athletes must meet specific academic standards. Student-athletes should be familiar with the following PC/NCAA academic eligibility guidelines: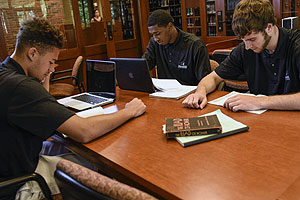 All student-athletes must be registered for a minimum of 12 credit hours at all times in order to practice and compete. A student-athlete becomes immediately ineligible if they drop below a full-time (12 hours) program of study (with the exception of seniors who need less than 12 hours to graduate and who have verification from the College OR graduate students who must be registered for 9 credits to maintain full-time status).
All student-athletes must pass a minimum number of credit hours toward their degree ("progress hours") each academic year (see eligibility chart below).
All student-athletes must complete a certain percentage of their degree requirements each year, beginning with the start of their third year of enrollment (i.e., under most circumstances, the beginning of their junior year; see eligibility chart).
If a student-athlete plans to change majors, they must meet with the chairperson of their current major, the chairperson of their new major, and a member of Student-Athlete Services.
Athletic Academic Eligibility Year-to-Year
Note – This chart assumes that the student-athlete is always enrolled as a full-time student; rules may have different applications for those enrolled part-time or not at all during one or more semesters. These rules are also subject to change, pending PC or NCAA policy/legislation revisions.
IMPORTANT: Under most circumstances, if a student-athlete is placed on academic probation after any semester, they are immediately ineligible for competition.
*Progress hours are hours passed that count toward the completion of the student-athlete's degree program. For undeclared students, progress hours are any hours passed that may count toward any degree program at the College.