Providing Academic Accommodations: Frequently Asked Questions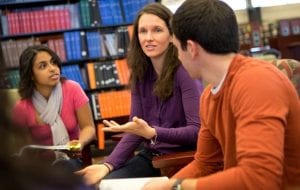 Below you will find answers to some frequently asked questions regarding academic accommodations for students with disabilities. The answers to these FAQs are designed to provide faculty with a general understanding their role in providing certain types of academic accommodations. If you have more specific questions or concerns, please feel free to contact Jonathan Gomes (jgomes3@providence.edu), or Molly McKeon (mmckeon6@providence.edu).
---
Answers to Frequently Asked Questions:
A student requesting any academic accommodation must first meet with a Student Success Center (SSC) staff member. The SSC will send written notification after confirming that a student is eligible to receive academic accommodations. The faculty, administration, and staff of Providence College are not mandated to provide any academic accommodation or modification until the SSC officially notifies them.

In most cases the SSC coordinates accommodations. However, there may be occasions when faculty members are called upon to provide accommodations directly. For example, the SSC may consult with faculty to provide note taking assistance for particular students. Faculty members also have the option to provide extended time for exams in class, provided that they have received notification of the student's eligibility for extended time from the SSC.

If you need the SSC to provide extended time for students with disabilities, we ask that you hand deliver a copy of your exam to Library 250 or that you send an electronic copy to oastesting@providence.edu at least 24 hours before the scheduled start time. If we do not receive your exam 24 hours in advance, we may not be able to accommodate your student.  In those instances you and the student will need to make alternative arrangements.
Please let the SSC know how you would like your exams returned. Completed exams will be scanned/returned to you by email within 24 hours. Original hard copies of completed exams can be picked up in the SSC. They will be shredded after – and only after – faculty confirm receipt of scanned electronic copies. 

When faculty are notified by SSC that students with a documented disability will need to take an exam outside of the classroom setting, there are important guidelines for faculty to keep in mind.  As is the case with respect to other types of reasonable academic accommodations, extended time in a distraction-free space is intended to help students with certain learning disabilities demonstrate proficiency and achieve their full potential as measured by the standards and objectives established for the entire class.
Concerns about test security and academic integrity are not adequate reasons for faculty to create an exam for students with disabilities that is different from the exam for all other students.  Adjustments to the content or format (e.g., the order in which questions are asked and/or the level of difficulty) that result in an increased or decreased standard by which to measure performance, or that create a substantially altered test-taking experience, must be avoided.  Therefore, the content and format of exams for students with disabilities should be substantially equal to that for students without disabilities; otherwise, improper alterations may undermine the purpose of the academic accommodation.  In partnership with the SSC, faculty are expected to help the College avoid treatment of students that reflects bias and that is inconsistent with legal requirements.
To address concerns about breaches of academic standards of conduct, many members of the faculty include in their syllabi a reminder about, and a link to, the College's Academic Integrity Policy.  Additionally, many faculty discuss the Policy as it relates to the course with all students, in class, at the beginning of each semester; and, many faculty clearly describe in their syllabi consequences for breaches of the Policy.
The SSC provides students with disabilities a written reminder of their obligation to maintain integrity regarding exams that are administered in the SSC testing room.  Faculty will be informed as soon as possible if a student is caught cheating on an exam or sharing exam content with other students.  Upon request, members of the SSC staff are available to discuss with faculty additional security measures that may help to preserve the integrity of the processes of administering exams and other types of performance assessments.

Some students require materials to be in an accessible format (i.e., large font size, compatibility with a screen reader or e-reader, closed captions for videos). If a student contacts you to request this accommodation, please contact Jonathan (jgomes3@providence.edu) or Molly (mmckeon6@providence.edu). We will work with you and the student to ensure timely delivery of materials.

Note taking assistance is needed when a barrier related to disability impacts a student's ability to record details of the class lecture/discussion. Barriers may include, but are not limited to, processing speed, inattention, and fine motor difficulties. Typically, students who qualify are provided with copies of peer notes.
Recording your class meetings, or granting students permission to record, is a widely recognized best practice that universally supports access for all students. Especially for students with disabilities who might otherwise require a peer note taker or access to recordings can allow them to revisit portions of the lecture that they may miss (or misunderstand) and augment or modify their own notes accordingly.

There are many techniques that can be built into a course to improve learning outcomes for all students, not just those with documented disabilities. Listed below are five tips to get started:

Be mindful of your speaking pace. Record/post live lectures and/or allow students to record for later review.
Present material in multiple ways (i.e., combination of text, video, images).
Provide a variety of options for students to demonstrate learning (i.e., discussions, written responses, presentations, different types of exam questions).
Avoid using PDF documents, which can be difficult to access through screen reading software. If using PDF documents, you can convert them into accessible formats.
Select videos with closed captions and/or transcripts.

To learn more, we encourage you to consult these resources:

Jonathan Gomes (jgomes3@providence.edu) and Molly McKeon (mmckeon6@providence.edu) are available to consult with you regarding individual student concerns. Please contact us to discuss this or any other concerns that you may have.