Leadership Development
Career Night 2018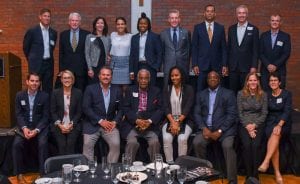 On Tuesday, October 9, the Providence College Athletic Department in conjunction with the Office of Academic Services held its annual Student-Athlete Career Night. The event was made possible through the generous support of Mark Mandell and Yvette Boisclair '84 who have sponsored the event since its inception in 2008.
More than 80 student-athletes from the junior and senior classes attended the event, which was held in '64 Hall. The night began with a message from Mark Mandell. He spoke about the importance of being humble and said that the true measure of wealth is what you are able to do to help others. The keynote speaker at the event was Doris Burke '87. Read more about Career Night here.
Mandell-Boisclair Leadership Academy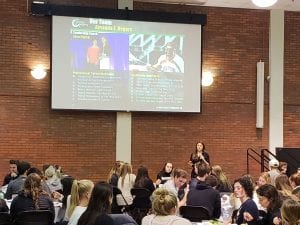 Thanks to a leadership gift from Yvette Boisclair Esq. '84 and Mark Mandell, Esq., PC Athletics teamed up with velocityHUB, a leading provider of business consulting and professional training services, through their collegiate leadership program, the Victory Academy, in 2017.  Friar student-athletes gathered for 5 leadership workshops across the course of the spring semester in 2018. The academy covered a range of impactful leadership topics. Specific areas of focus included leadership styles, mental toughness, high performance mindset, becoming a captain and developing a plan. Student-athletes were given tools and strategies to develop personal leadership styles in order to become confident leaders in the classroom and on the field. The academy also provided all head coaches with a collaboration kick-off reception.  Now in its second year in 2018, PC Sophomores will attend three trainings on Mental Toughness (Self Awareness & Coach ability, Self-Management & Situational Awareness).  In the spring of 2019, all junior athletes will participate in the Leader's Circle by learning tools and skills to becoming a team leader and developing a plan.  Read more about the Leadership Academy here.