Friars in the Community
2018 NACDA Community Service Award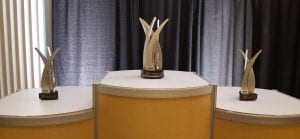 Providence College Athletics was runner-up in receiving the NACDA Community Service Award presented by the Fiesta Bowl.  The award honors Division I programs that make volunteerism and community service away of life. The award consisted of a trophy and a $5,000 prize. PC donated $2,500 was donated to Special Olympics Rhode Island and $2,500 to NAMI (National Alliance on Mental Illness) Rhode Island.
2018-2019 Community Service Highlights
340 Student-Athletes represented PC out in the community
Over 3,547 total hours of community service performed
Raised over $49,500 for various charitable organizations
2018-2019 Community Service
Part of being a Providence College student-athlete involves giving back to the community through various avenues. Each team is responsible for participating in community service activities and SAAC works with the teams to plan and support their efforts.
Friars in the Community