Online Tutoring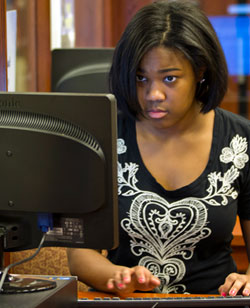 In addition to tutoring that is face-to-face, the Writing Center also sponsors "The Write Site." Through this service, students may submit essays up to seven double-spaced pages in length and receive written feedback from a tutor within 48 business hours.
Like the Writing Center's drop-in service, The Write Site is built around the concept of writing as a process. Students are asked to identify their own concerns before submitting their work, and tutors respond to those concerns so that the online exchange is collaborative rather than prescriptive.
Please remember to submit work at least three or four days before the due date of your paper so that our tutors have adequate time to formulate feedback, and so you are left with ample time to revise.
Submit to the Write Site:
Write Site Submission Form