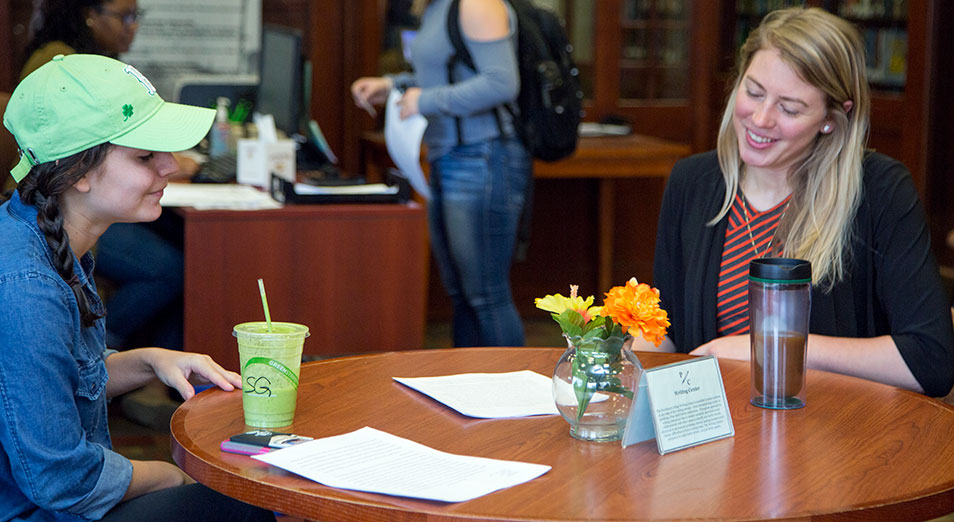 Writing Center Events
Fall '17
For Students:
Quick Question Drop-In Sessions
Tuesdays from 2:00-3:30 in Library 249 beginning September 26th.
Do you have a specific question about your introduction or conclusion? Are you unsure about the wording of your thesis? Drop by the Writing Center on Tuesdays from 2:00-3:30 to discuss a particular question or section of your paper with a writing tutor. Remember: first-come, first-served!  [NOTE: To have your paper read in entirety, you must schedule a one-on-one appointment with a tutor in advance.]
Selling the Sizzle: Writing Effective Personal Statements
Wednesday, November 8th at 3:30 in Library LL25
While grades, activities, and accomplishments are the "steak" of your graduate school application, your personal statement is the "sizzle." Join us and learn how you have transform your personal statement from one among many to one among the chosen few!
For Faculty:
Finding the Right Recipe for Your Writing Assignment
Wednesday, October 11th at 12:00 in Library 249 (rsvp only)
Cooking up a writing assignment that elicits the desired results from your students takes planning.  This session covers some essential ingredients of a well-designed writing assignment. It also offers faculty the opportunity to workshop one of their own assignments and "spice it up" for the coming spring.
Mastering the 15-Minute Conference: Keys to Empowering Student Writers
Tuesday, November 14th at 11:30 in Library 249 (rsvp only)
Giving students ownership over conferencing can create more empowered student writers and save faculty time.  In this session, we will discuss ways to prepare students to facilitate thoughtful, focused conferences at various stages of the writing process.