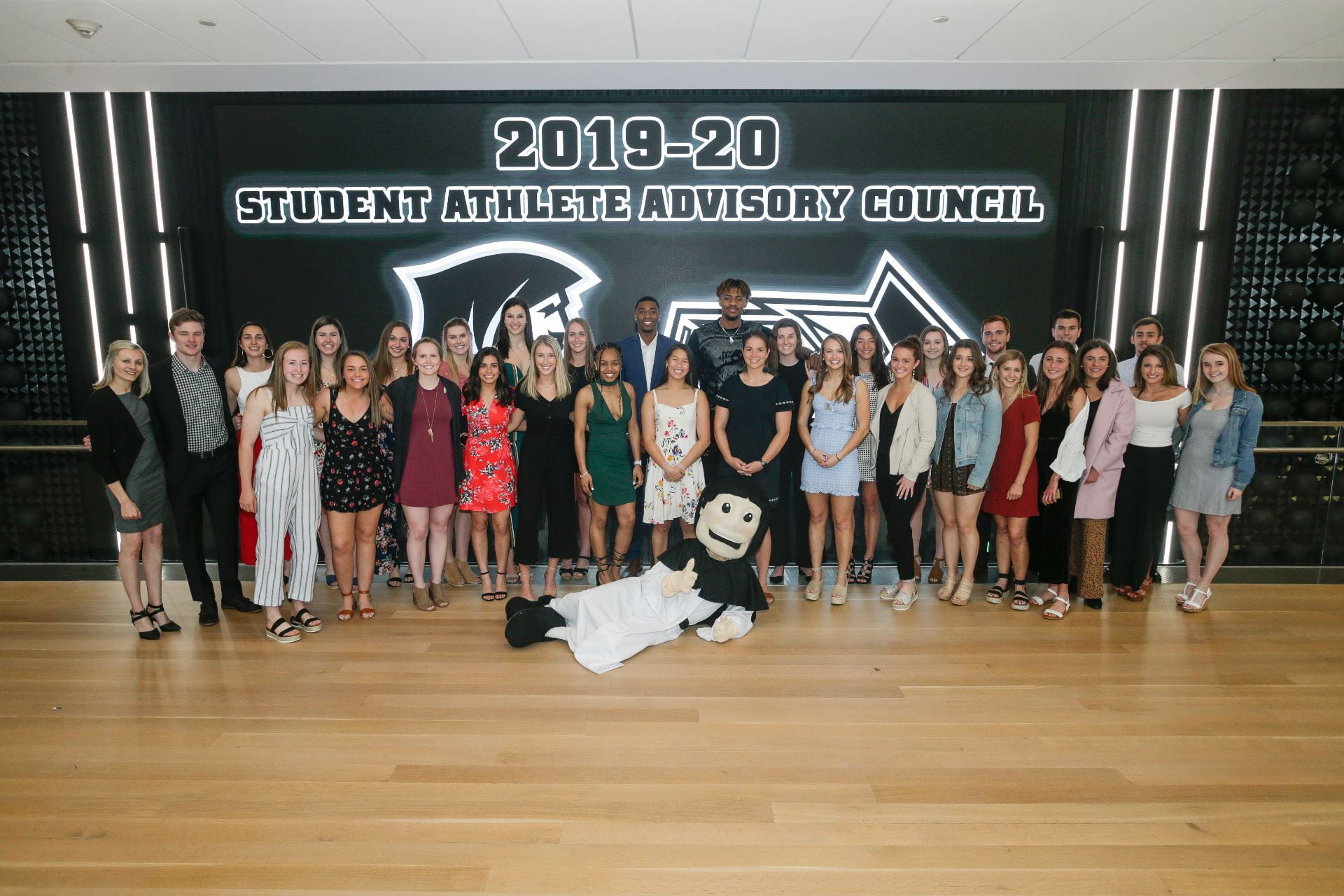 Student-Athlete Advisory Council
Student-Athlete Advisory Committee (SAAC): 
SAAC is a registered student organization that provides student-athletes with the education and experiences needed to assist them in bridging the gap from college to the professional world, and to encourage meaningful contributions to their communities. Membership consists of four executive board members, team representatives and additional student-athletes seeking involvement in programming provided by SAAC. SAAC plans activities consistent with the three commitments of the Life Skills program: personal development, community service, and career development. Each segment is viewed as critical in the personal growth process of student-athletes. 
THE ROLE OF SAAC AT PROVIDENCE COLLEGE: 
To design and implement activities that enhance the involvement of sporting events at Providence College and to promote awareness of PC Athletics within the campus and Providence area

 

To actively encourage involvement of student-athletes in campus and community outreach programs and activities

 
To provide student-athletes with the opportunity to effectively communicate with the athletics department administration on matters that involve the welfare of the student-athlete

 

To effectively make decisions or act on any other matter relevant to the goals and responsibilities of the PC SAAC

 

To serve as advocates for all student-athletes in communicating information about relevant issues and proposed NCAA rule changes

 

To serve as advocates for all student-athletes in communicating information about relevant issues at the College and BIG EAST Conference level

 
2019-2020 Executive Board
President
Jessie Spontak '20, Volleyball
Vice-President
Peter Rindfuss '20, Cross Country/Track
Secretary
Cayla Veverka '20, Volleyball
Social Media
Madison Skeie '20, Field Hockey
2019-2020 SAAC Representatives
Men's Basketball: Jared Bynum, Noah Horchler
Women's Basketball: Olivia Orlando, Kyra Spiwak, Kaela Webb
Cheerleading: Grace Crowley, Keagan MacKrell
Men's Cross Country/Track & Field: Marcelo Rocha, Ian Russ
Women's Cross Country: Maria Coffin, Abbey Wheeler
Women's Track & Field: Emily Wall
Women's Field Hockey: Maddie Babineau, Brenna Cavallaro
Dance Team: Sara Lancellotta, Ava Souza
Men's Ice Hockey: Davis Bunz, Spenser Young
Women's Ice Hockey: Kathleen McHugh, Clare Minnerath
Men's Lacrosse: Mike O'Grady, Ryan Zimmerman
Men's Soccer: Malcolm Duncan, Giovani Jimenez
Women's Soccer: Theresa Durkee, Shelby Hogan, Hannah McNulty
Women's Softball: Julia Murphy, Crista San Antonio
Men's Swimming & Diving: Kevin Lydon, Parker Cramer
Women's Swimming & Diving: Natalie Aquadro, CJ McCartin
Women's Tennis: Aidan Epstein,Natalie Pitocco
Women's Volleyball: Allie Barber, Addison Root
Advisors: Jennifer Cunningham, Shannon Catlin